After my Birthday on the 11th of Nov, I took a short trip to Batam View Beach Resort for 1 night. I set out on the 12th of Nov morning. Mainly my trip was just to relax, get away for awhile and just try fishing for fun.
I'm not going into detail about my bla bla bla trip cos you don't really care.
What I'm going to do, is talk about fishing!
After having my dinner at the seafood kelong, I kept looking at the jetty, hands itchy like hell. So I gulped down my food and called for the bill. But the fucking retards there took 30mins to get my bill so I said, "Fuck it, I'm heading down to check the Jetty out, if you want me to pay you come to me".
There were only 2 ppl fishing at the Jetty. One guy got 3 decent sized sotongs and the other got KOSONG.
Using my superhuman investigative skills I learned from 8 seasons of CSI, I scanned the floor looking for the best sotong spot. The spot with the most ink = my spot.
Quickly, I called the resort buggy to take me to my room, grabbed my stuff, and got him to drive me back.
I wasn't gonna fish in my Ralph Lauren polo T, so I quickly changed into my trusty Giordanos and started jigging for sotongs.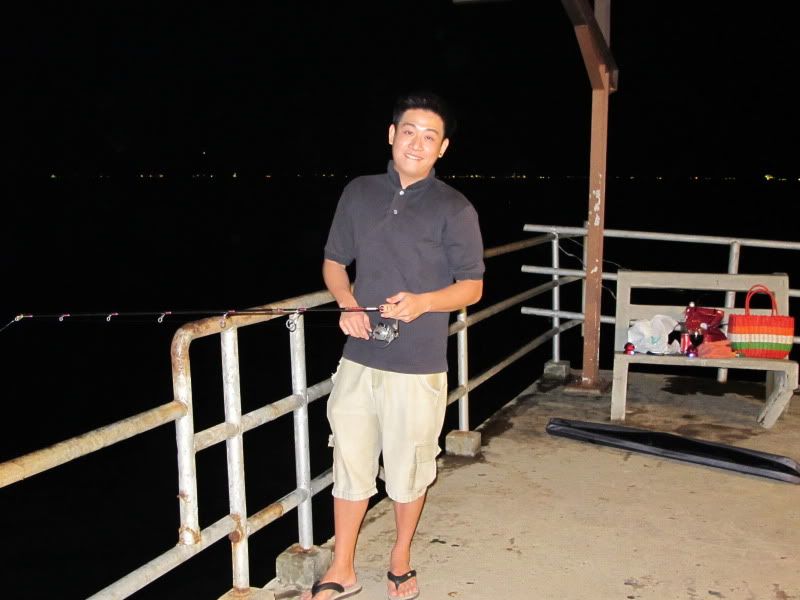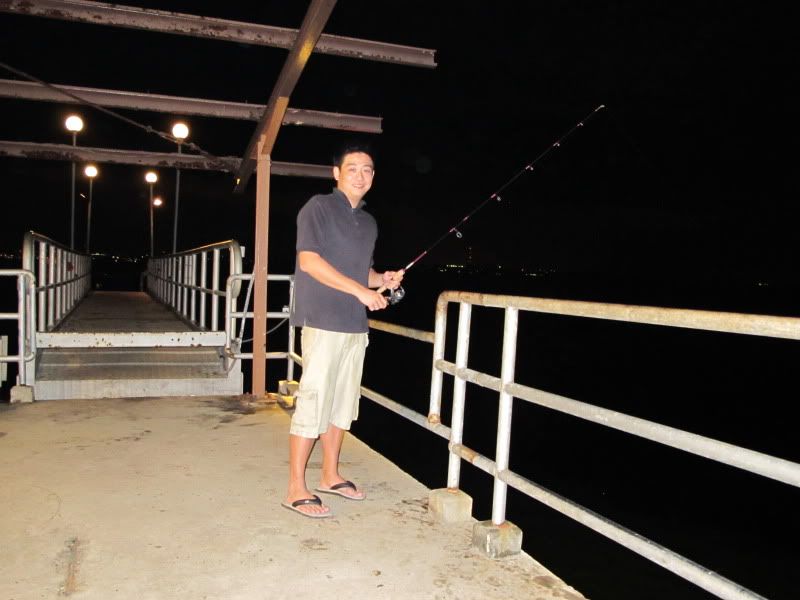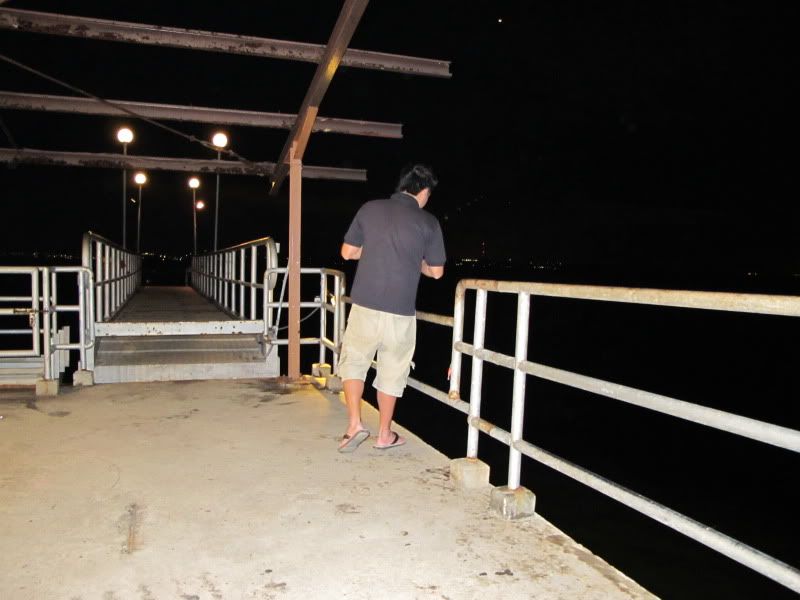 Firstly, I've never caught a sotong in my life.
Secondly, I didn't know what size jig or what type to buy. So I bought size 2.5 and those that flash a red LED light.
I felt like an idiot lol. The others had small sotong jigs, mine was huge and blinking red. Quite funny. They looked at me like I was some atas celebrity fisherman. Hahahhaha!
Cutting the story short, they left after 30mins and I left after an hour. No more sotongs. I did get a hook up but apparently I pulled to hard and ripped the sotong in 1/2. So technically, I only caught 1/2 a sotong. Better 0.5 sotong than kosong right?
No matter! I bought some frozen prawns from the kelong and I was gonna go back to my room to fish!
How?
Cos my villa's balcony looks out into the sea.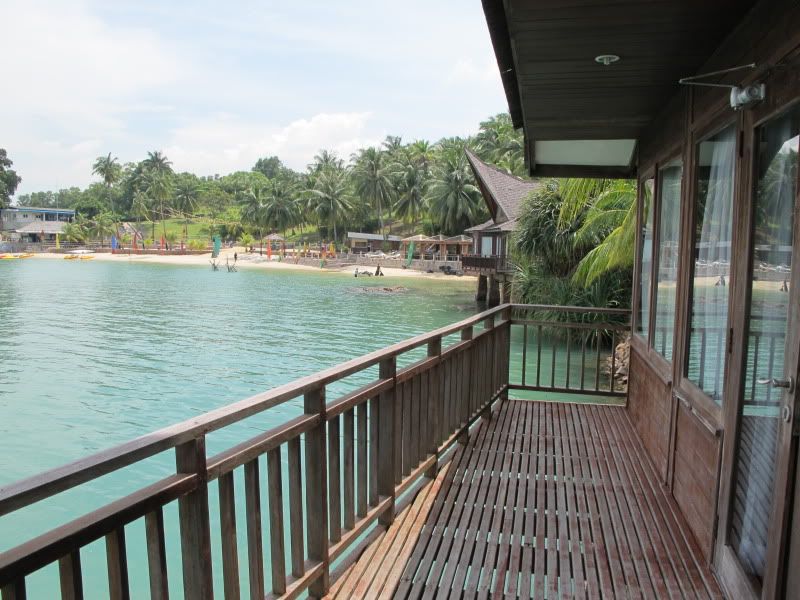 Nice?
Nice....
This was taken from the living room sofa.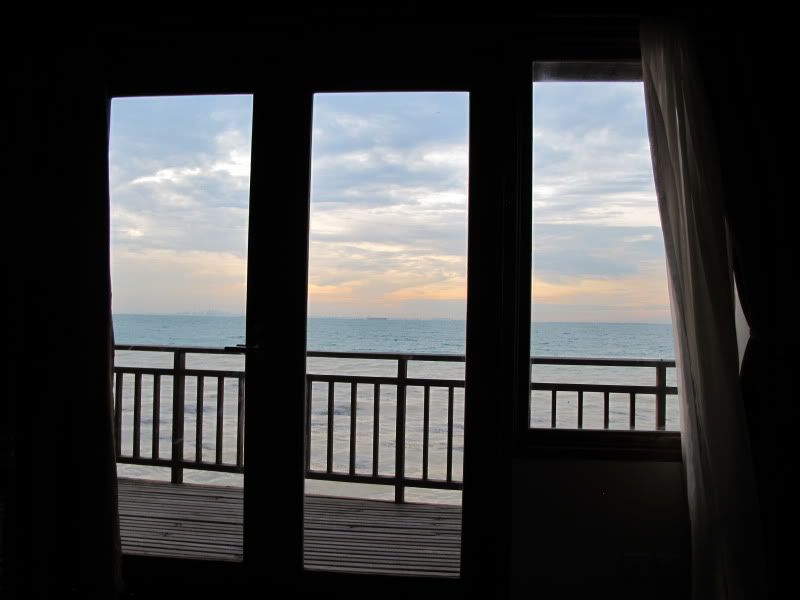 After setting stuff up, here's what it looked like.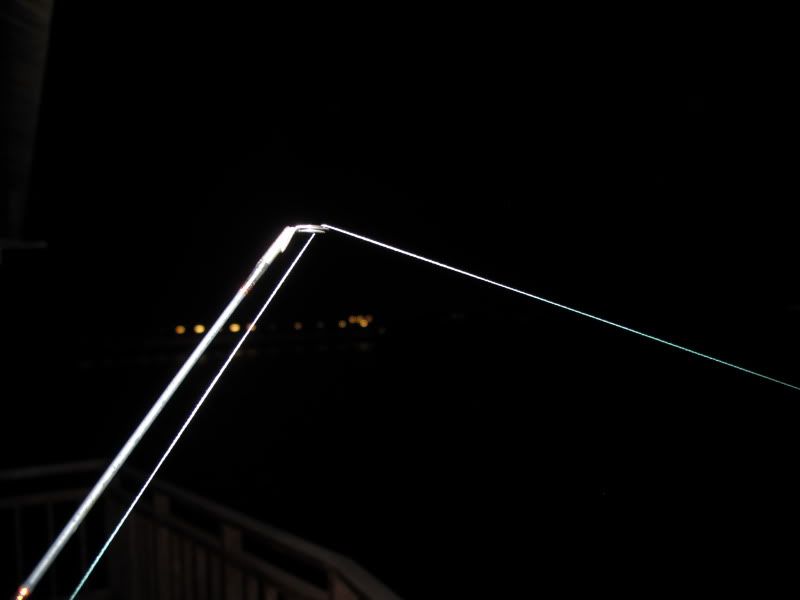 I saw a post on my fishing forums of some people fishing from the exact same spot as I did. They caught a lot of 1/2 a palm size coral fishes. Hmmm... I didn't think I would get any cos in my experience, those fishes only bite during the day. I was fishing at night.
Furthermore, there was TONS of seaweed. I read people say they got "sangkot" or stuck in the rocks a lot and were losing rig after rig. Hmmm.. I didn't get sangkot a single time. But the seaweed really pissed me off!!!! Thank God I was using a 30 pound braided line. I brought it on purpose so I could pull and rock or seaweed out lol. And it was a good choice!
So I casted, stuck the rod into the chair, and watched Batman: The Dark Knight on HBO with a can of beer in the air-con room. Hahhahahaha.
After 20mins, I decided to check on my line and I reeled and I reeled and pulled and pulled. You cannot imagine how much seaweed I brought up hahahahhaa...
When my rig finally came up, I noticed something trashing amongst the seaweed.
OMG! I GOT A FEEEEEEEEEEESSSHHHH??????
Yessum, I gots a feeeeshhhh!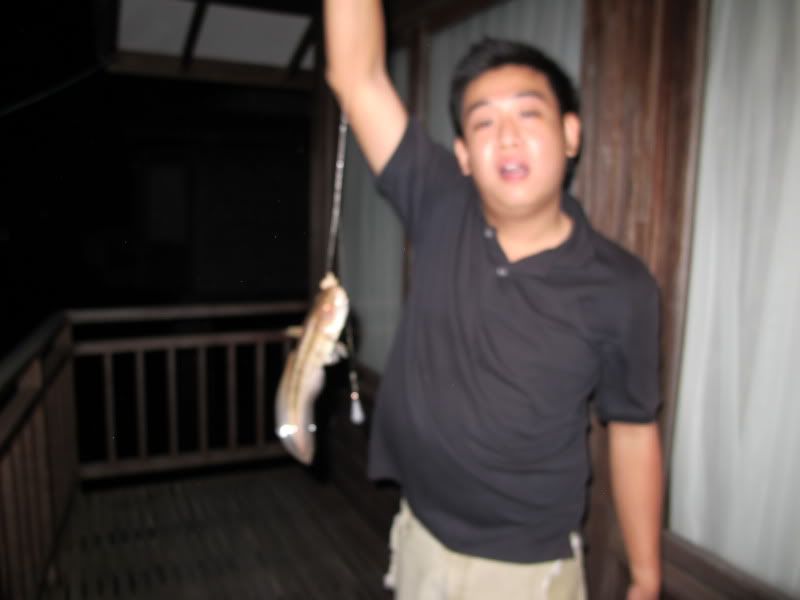 Zzzzzz Ah fucking Seng follows me from Singapore to Batam.........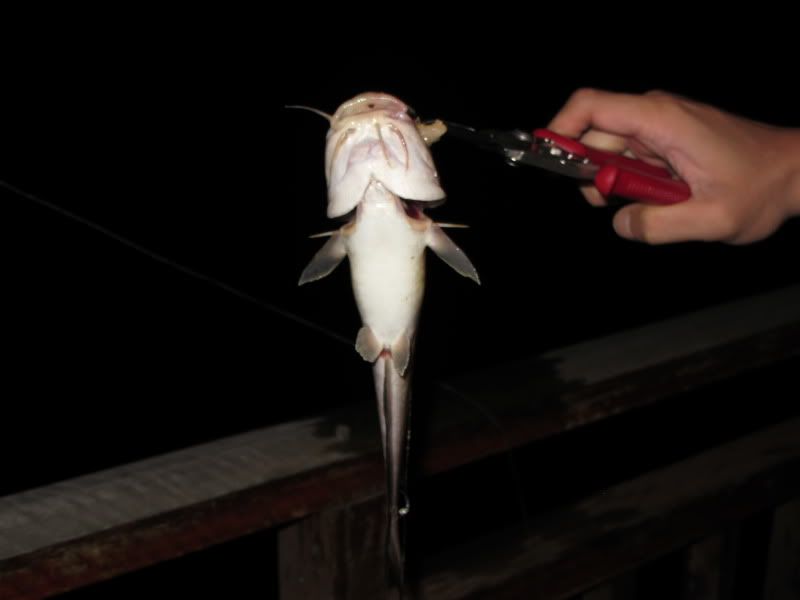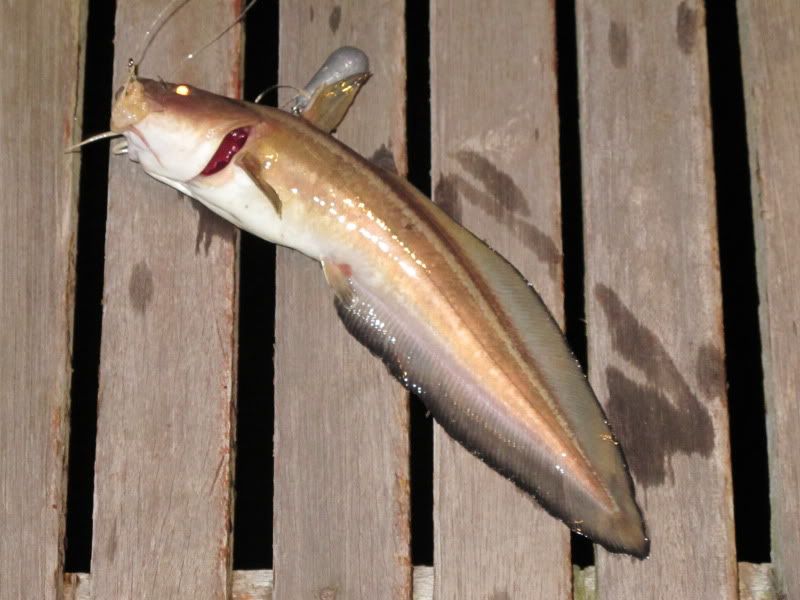 "F OFF U MOFO HOBO!"
Casted again and back to seeing Christian Bale kick Heath Ledger's smiley ass!
After 30mins I decided to check on my line again.
Once again, 985787348734985 tons of seaweed. But this time, it was different. I could feel a fish on my line moving! I was so excited.
But the fucking seaweed was like a fucking cock blocker. Preventing me from getting to the end of the line!!!!!! Hahahhaha.
Finally....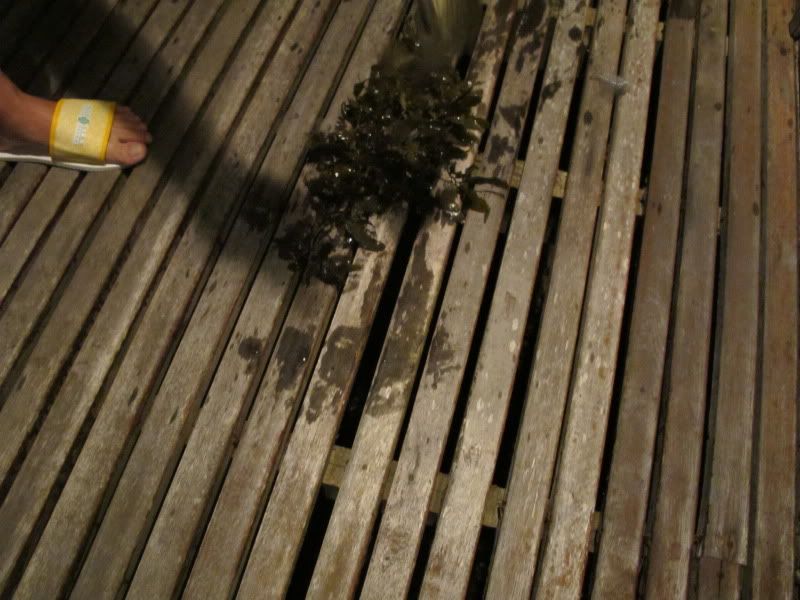 Look harder, can you see a little of the fish?
Omg what fish is that???
When I finally go the cock blocking seaweed off, I was like... Zzzzzzzzzzzzzz
LENG CHIAM FOLLOWED ME FROM SINGAPORE TO BATAM!!
Ey.... Hmmm... On second thought, maybe not leng chiam....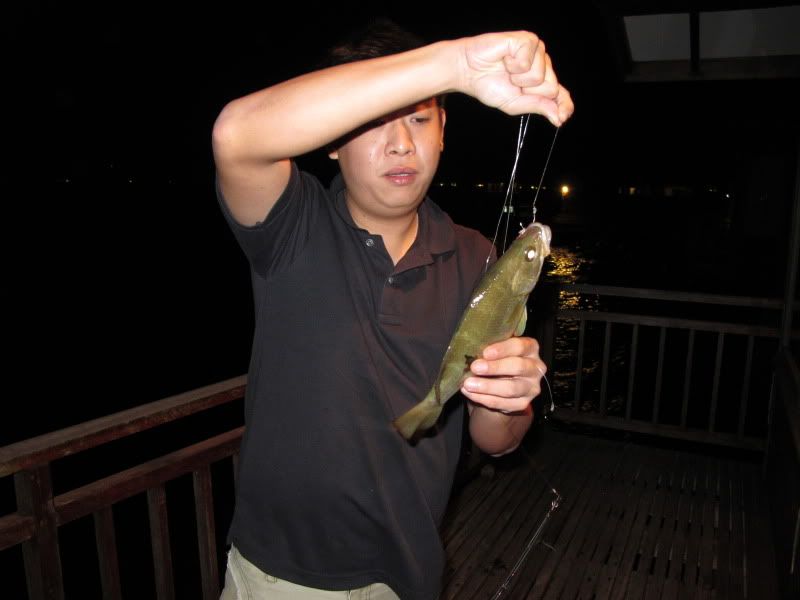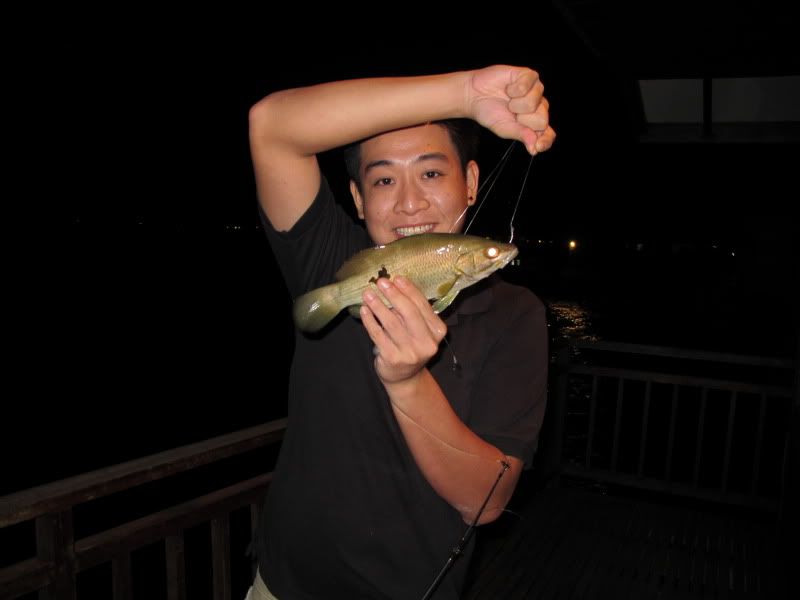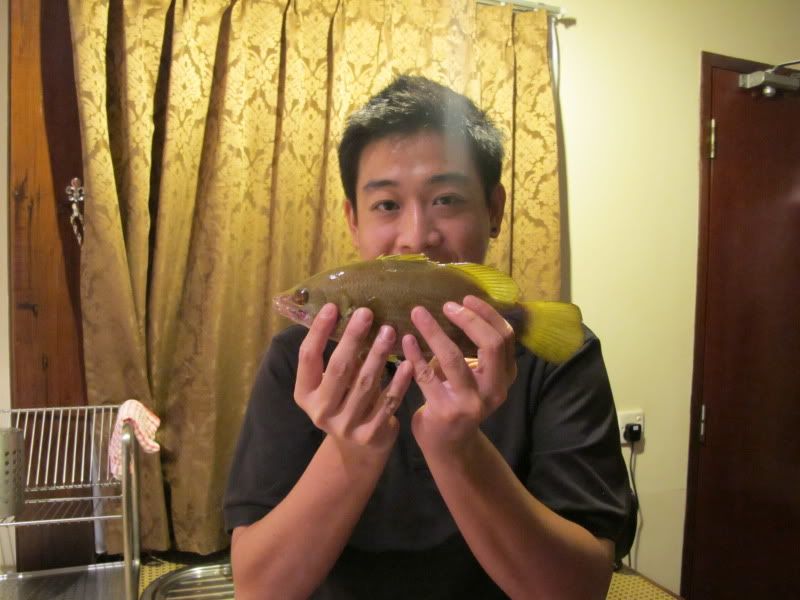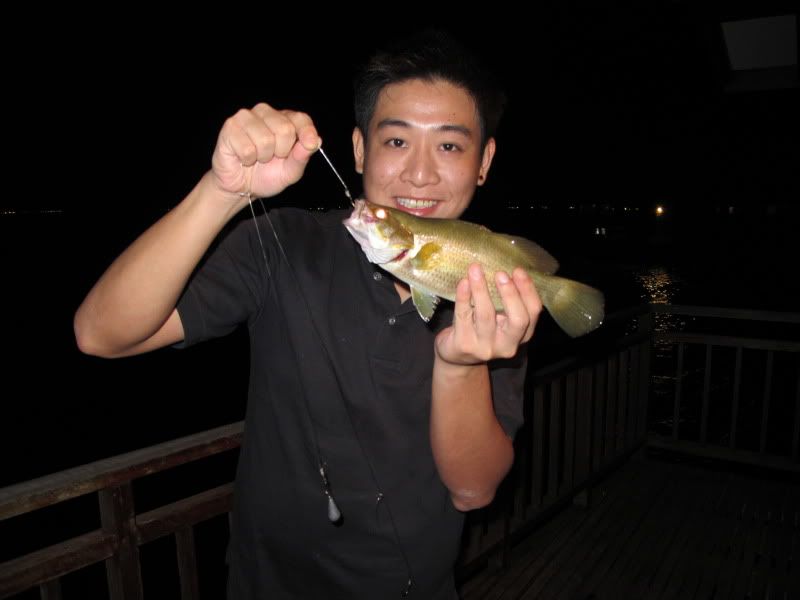 Wow!!! Sea Bass!!!1111one!!!one1!!!
I've NEVER EVER gotten a Sea Bass on a boat and I always wanted one ; ;
And I finally got it while watching Batman, drinking beer, sitting on the sofa in an air-conditioned room! FWAH!
And the size was purrrrrrfect for eating too!
I don't like the meat of the Sea Bass you buy from the market, I always wanted to try the other smaller species from the sea... Oooooooooooooo...
So for the 1st time in my life, I descaled a fish, cleaned it and cooked it.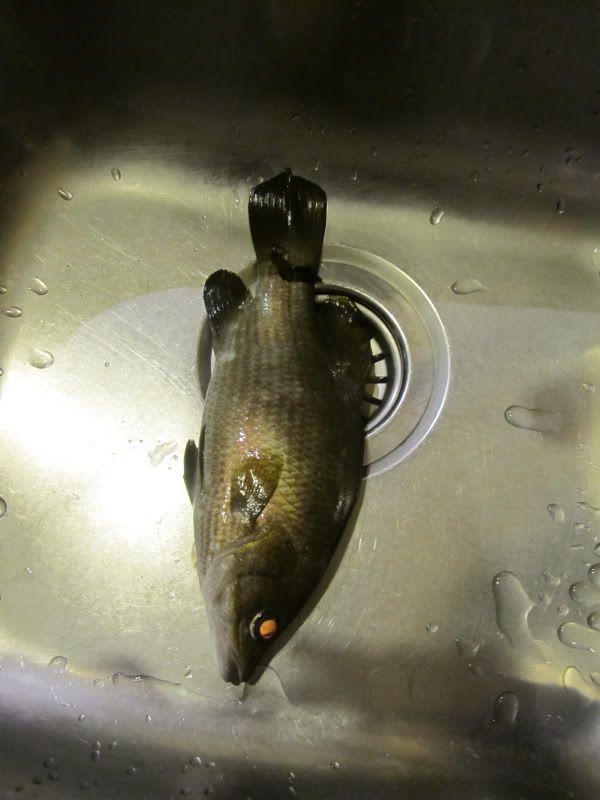 Boy it was hard work!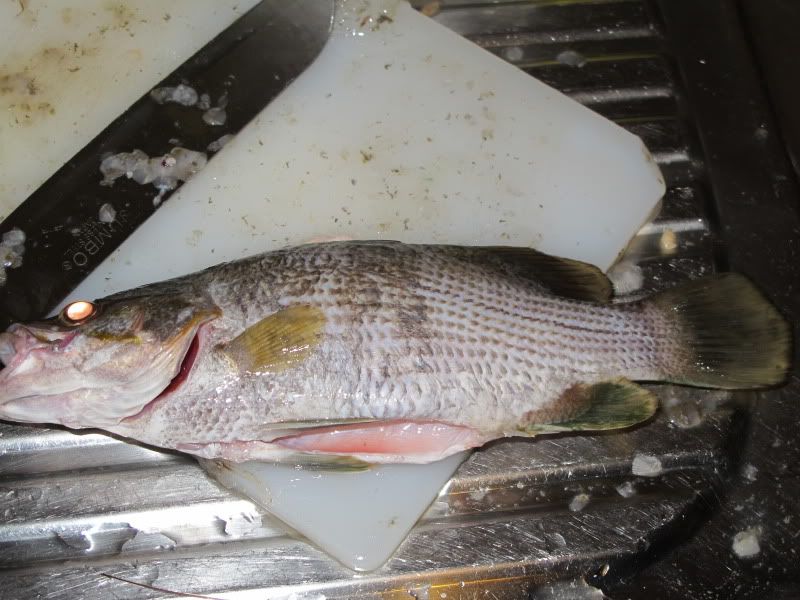 Finally... I didn't have any condiments. All I had was leftover food from dinner. So I had to reheat and use whatever sauce I had left.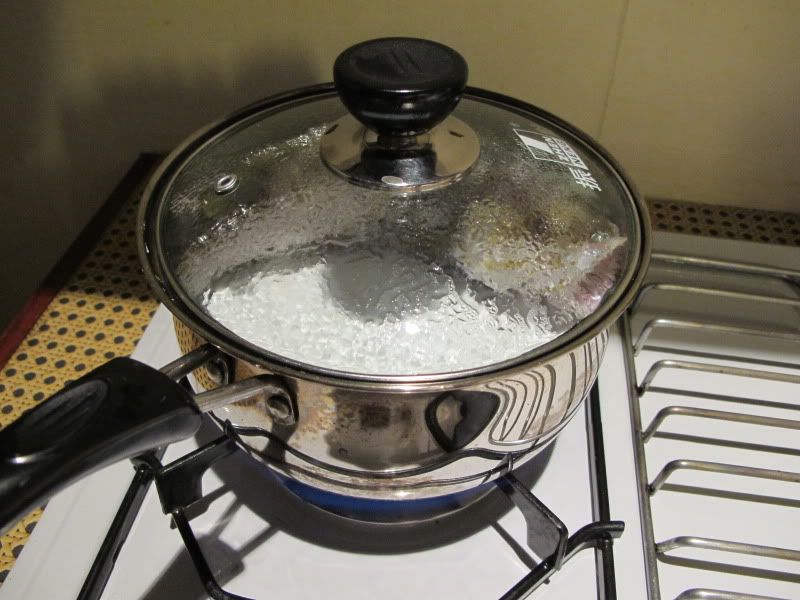 7mins later...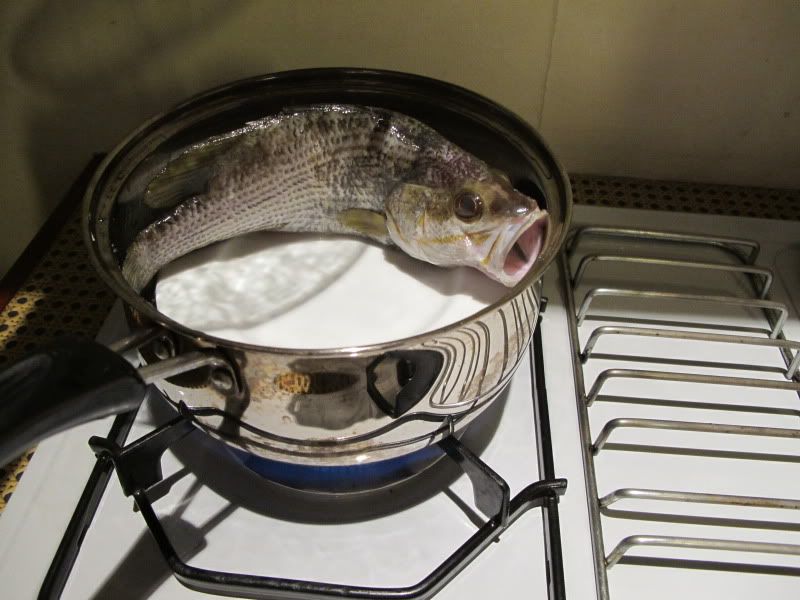 Geez he looks shocked.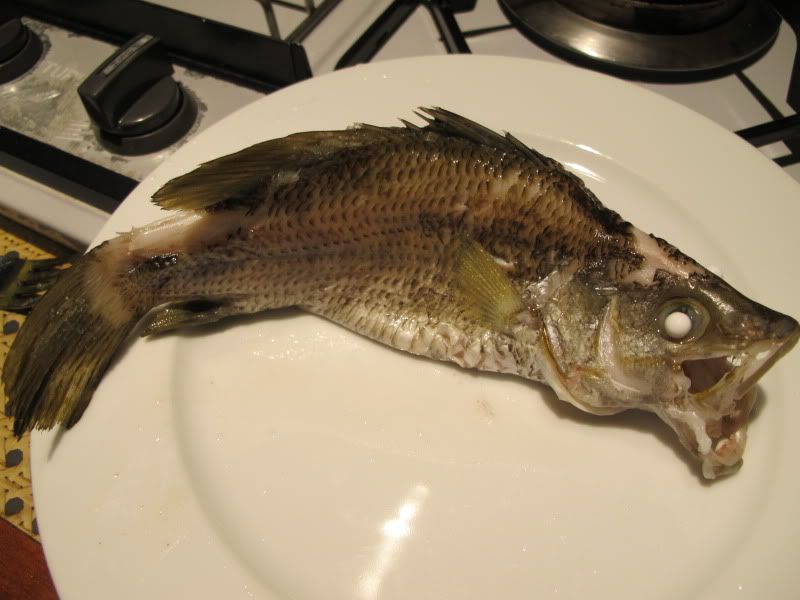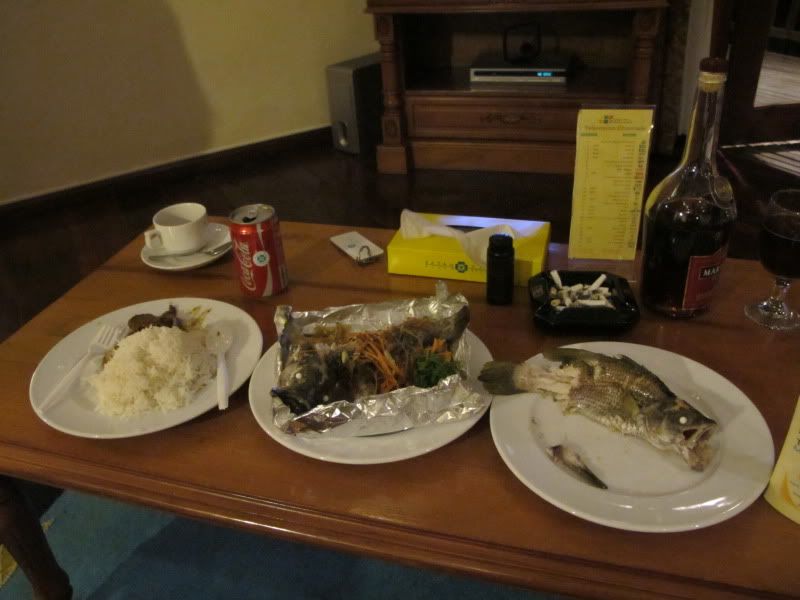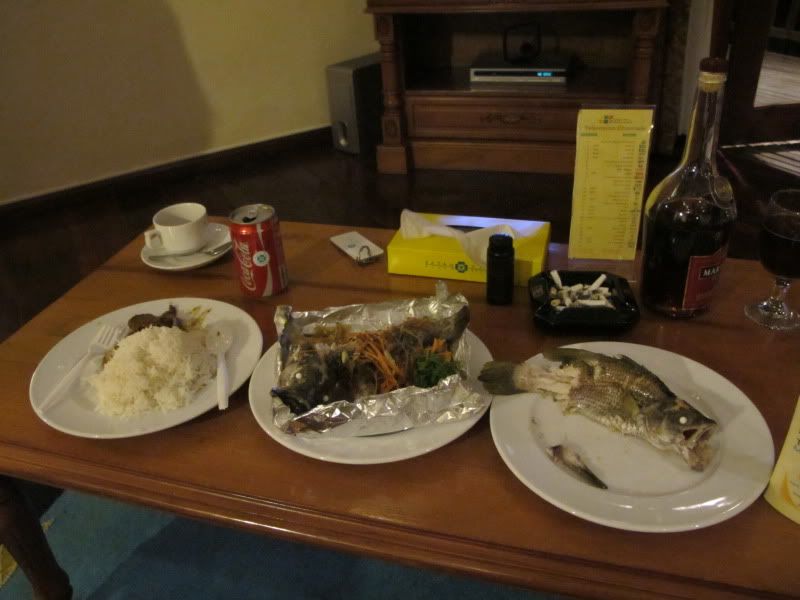 OK WARNING!
WARNING
WARNING
Disclaimer: The next few pics are going to make your mouth water and make you wonder how snow and fish meat would taste like. If you haven't had your lunch or dinner, I suggest you click the X button right now.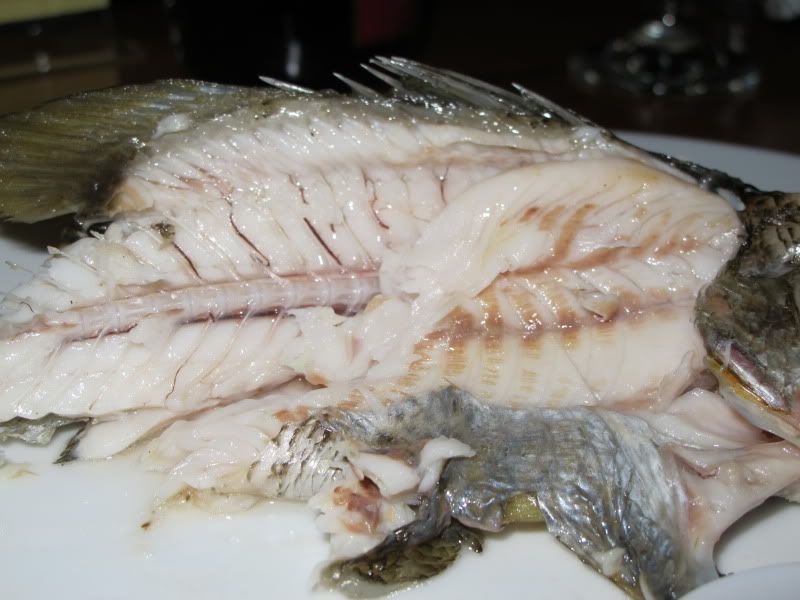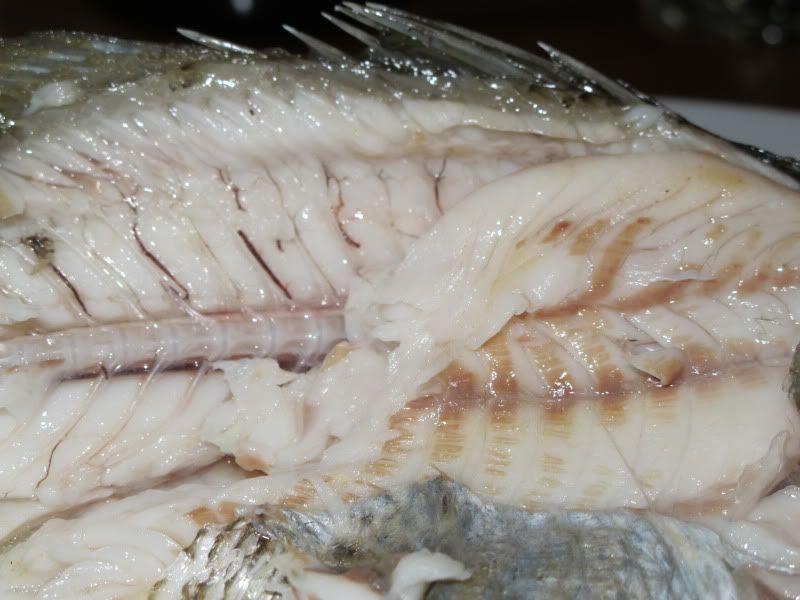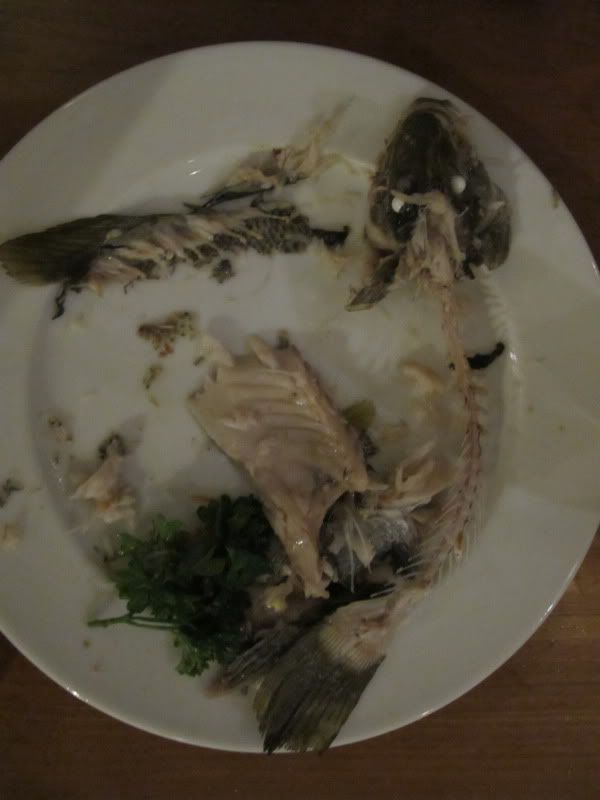 Yummmmmmmmmmmmmmmmmmmmmmmmmmmmmmmmmmmmmmmmmmmmmmmmmmmmmmm!!!!!!!!!!!!!!!!!!!!!!!!!!!!!
I didn't expect to have anything to post from my Batam Trip, but it turned out really well. Really a surprise catch and I guess I was really lucky. I didn't bother fishing after that cos this one is already a WIN!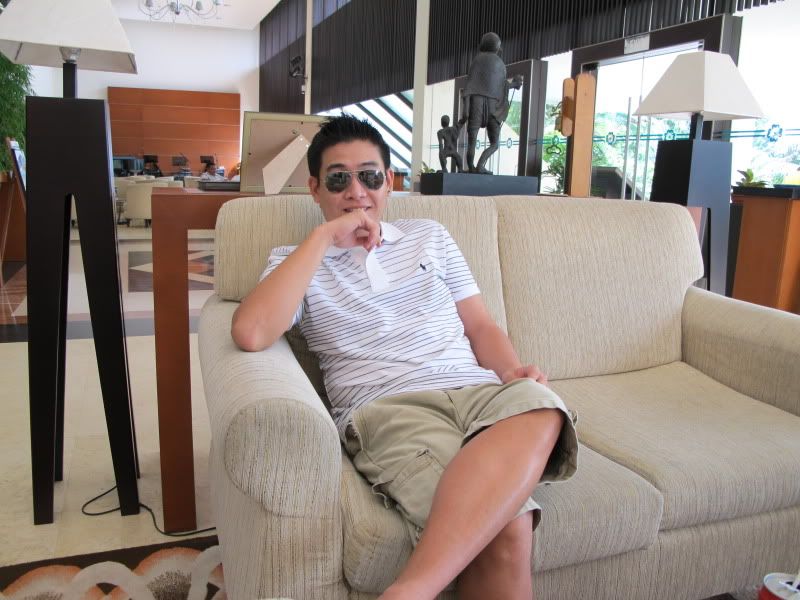 Finally, a hammsumm pic of me just for u!~
Bwahaha...